Hi I'm Praneeth Kumar.
In this blog you will learn 15 best Digital marketing business ideas you can start after learning digital marketing.
Most of the ideas mentioned in this list do not need a lot of investment or any additional skills to have in order to start and make money from it.
So Without further ado let's get started.
Here is a 30000 foot view of the blog post.
15 Digital marketing business ideas;
Let's dive into some of the popular business ideas that you can start after learning digital marketing for yourself and making money.
1. Blogging.
Without a second thought, blogging is by far the best digital marketing business idea you can start.
Blogging is about publishing content around a particular topic on your website which is targeted around particular Keywords so that you can drive traffic to them from search engines and social media.
You can use that traffic to make money from different ways like sell products and services, display and earn from ads, sell sponsored posts etc.
Many people think that blogging is dead but let me tell you that just like how the internet is also changing everyday so does blogging, it is not dead but it has simply changed.
The techniques and strategies which used to work a couple of years ago do not work anymore in blogging today.
But with the constant growth in digital marketing there is more need for blogs and websites for businesses than ever before because more people are getting online using Google and blogs to read content and make purchases.
I would highly recommend you to start a blog as the first digital marketing business idea you can think of.
A few helpful resources you can read.
Now let's see the next idea.
2. Affiliate marketing.
Affiliate marketing is one of the best business ideas you can think of apart from blogging which can drive you consistent results and money as a passive income if you do it correctly.
Affiliate marketing is about selling other companies and peoples products online and earning the commission whenever people purchase the product from your recommendation.
You can be an affiliate marketer without being a blogger and you can read my ultimate guide on how to start affiliate marketing without having a blog.
The reason why affiliate marketing is so amazing business idea is because of the numbers, 
The fact is that 81% of brands rely on affiliate programs to improve their business and Affiliate marketing worth $12 billion as of now.
A few helpful resources you can read.
3. YouTube.
Look, YouTube is the second largest search engine after Google and second highly visited social media platform after Facebook.
There are more than two billion people who are using YouTube every single month.
That is crazy by numbers when you think about it.
You can start recording and upload videos on this platform around a particular topic which you are interested in using just your mobile phone.
You can make money from different ways like Google AdSense, brand deals and sponsored posts.
4. SEO specialist.
SEO is called Search Engine Optimisation, it is about optimising a website to get more traffic from Google and other search engines.
SEO is a major Digital marketing topic and you can become a SEO specialist and expert and start offering SEO services for small businesses and companies.
Many businesses have realized the importance of SEO as more people are getting online using Google and reading blogs before purchasing products, learning about a company, business etc.
There are different types of SEO services you can offer like,
Local SEO which is to get traffic, customers for local businesses through GMB listings and getting their business ranked in local search results.

Ecommerce SEO which is to get traffic and increase conversions for ecommerce stores.

Link Building services which build links to content and rank websites of SMB for keywords in Google search and get traffic.
You can easily start a blog and practice SEO yourself with the help of many popular seo blogs and as a digital marketer you will have good knowledge in seo as well while learning the digital marketing.
A few helpful resources you can read.
5. Email marketing.
Email marketing is another very popular digital marketing strategy that you can use as a business idea and make money.
The fact is that with email marketing you can get 44$ as ROI for every dollar you spend on this strategy.
In order to start this strategy, All you have to do is to collect email addresses of your audience and you can do that by
creating a free course, ebook, creating a free webinar and Collect leads using landing pages using tools like Unbounce and lead pages and then collect email addresses using convertkit or get response email marketing tools.
You can collect email addresses of people by marketing and running on Facebook and YouTube ads campaigns.
You can then use those email addresses of your audience, build good relationships and nurture them and then make money by selling any course, ebook or a product to that audience in future.
The beautiful thing about email marketing which separates other marketing strategies is that you own the audience base, you don't have to depend on other websites or platforms like Google or Facebook to get you people and traffic.
This is a great business idea which can surely get results and a good ROI for your business because you already know and specialise in digital marketing strategies.
6. Search engine evaluator.
When you are learning digital marketing you'll also be learning about SEO and you will have a clear cut idea of how search engines work and you can use that knowledge and
experience to apply as a search engine evaluator and work for companies like Google Bing and Yahoo and other companies which have search engines mainly as a freelancer.
It is a low investment business idea that you can get started but this can give you a lot of exposure and awareness in your career.
As a Search engine evaluator, your job is to analyse and understand how search engine results are performing by
comparing with a set of documents and rules which are given to you and you should give the report/feedback and results to the people who handle those algorithms behind.
You can click here to learn more about how you can become a search engine evaluator in detail.
7. Start a Digital marketing company.
You can also create and start your own digital marketing agency.
You can also offer different Digital Marketing Services like content marketing services where you offer services related to writing blog posts or creating videos on behalf of businesses for some charge.
We all know that the increase in video consumption has been rapidly growing over the years and video content is 50 times better than text because it is more engaging and fun.
But not all people are willing to show their faces on camera and record videos or have enough time to do that and
you can use that opportunity to start offering the services and make videos for small businesses like reviewing products, answering customer questions, etc.
You can also create and sell any tool and service which converts blogs into videos and podcasts because these content formats are highly popular and demanding, and make money but they are very time consuming to make for others.
You can also think of creating your own digital marketing tool like a Keyword research tool or any social media marketing tool or wordpress plugin or theme, develop any mobile application if you don't have the idea, skill or
potential to do that then you can collaborate with any developer and you can manage the other aspect of business like marketing and sales where you have the knowledge.
The opportunities and options are endless when you think about it.
You might have to invest a little bit more money compared to other ideas mentioned in this list but you can definitely generate a lot of more income, ROI and revenue for your business if you can do it.
8. Social media manager.
Social media marketing is one of the most important Digital marketing strategies.
Having a social media account and handles is very important for every small business and company because they can easily get connected with their target audience and build quality relationships and trust with them.
But creating and maintaining a social media account for a small business owners is very time consuming task, 
You will have to create and publish content on this platform consistently to have your account active and stay engaged with the audience and you should also stay interactive with your audience on social media like replying to comments, dealing with criticism, etc.
As a digital marketer yourself you can start offering services related to social media management for companies and small businesses.
You can do all the necessary work for the small business on their part so that they can save their time and work on important aspects of working on their own business and you can focus on handling the social media profiles and dealing with customers on social media.
The amount of money you make from this strategy and Idea will depend upon how many customers you offer service to and how your service will be.
If you can manage many social media accounts like Facebook, Instagram, LinkedIn, twitter, Pinterest you can make more money than just handling and managing a single social media platform.
9. PPC manager.
Apart from handling the social media accounts of small businesses you can also handle,run and manage paid ad campaigns of small businesses and companies like Facebook ads, Pinterest, linkedin, Google, YouTube, Instagram ads.
Most businesses, companies and individuals want to run paid ad campaigns on these social media platforms especially on Facebook but they don't do that as they get scared of technical details and it might be a time consuming process and can require a lot of learning curve.
Instead of this, you can start offering these PPC ad campaigns services to these businesses and run paid ad campaigns on their behalf.
Instead of offering a lot of ad campaigns in your services, you can specialise in any Platform like for example Facebook ads.
You can get expertise in that field and get more clients than others because you have specialised knowledge and experience working in that industry.
You can find clients of linkedin and other freelance platforms.
10. Social media influencer.
After you learn digital marketing you can also become a social media influencer like you can use many social media platforms like Instagram or Facebook or even Pinterest and start uploading content like videos and reels on Instagram or
facebook photos and pinterest pins so that you can start gaining some followers and build an audience on these platforms.
In order to become an influencer on any platform you first have to think of how you can add value to other people either by entertaining them or by educating them in any way possible.
You can use graphic design tools like canva to create these social media posts and schedule them.
After you build the following and establish credibility and trust with the audience on this platform, you can get some brand Deals And use influencer marketing tactics to make money.
As an influencer to a particular group of audience on your social media,
you have control and power to change the buying decisions of a particular person and you can use that power to promote products of Business and brands and get more sales for those companies.
This is another great and highly profitable digital marketing business idea that you can use to make money.
11. Freelancer.
You can also become a freelancer after learning digital marketing like you can offer different types of freelance Services like,
You can create a website on WordPress for small businesses and charge money for that because most businesses want to have a website presence but they don't know how to create one and you can help them do that.

You can also be a freelance SEO writer or a content writer in general and write and publish blogs and other important content to businesses.

You can also learn and teach digital marketing as an online tutor to other people who are completely brand new to the digital marketing field for low prices.
There are different types of freelance services that you can offer after learning digital marketing and for more information about freelancing you can read my ultimate guide on whether freelancing is a good career option or not.
12. Reseller hosting.
You can also think of starting your own web hosting company.
Hold on.
I know you might be wondering that it might take a lot of cost and investment upfront to set up the servers and infrastructure for a hosting company.
But
You can leverage this business model called reseller hosting where you purchase the web hosting packages from any popular hosting services like reseller club and sell the hosting to your users on your name.
You can purchase hosting servers, bandwidth and storage for low cost from a hosting service like you normally purchase any hosting plan and sell the hosting service in your name and brand as though you created the hosting company.
You can set your own prices of hosting plans, deal with customer service yourself as though
you own the servers but you don't have to deal with maintenance of servers and security because the hosting company is going to take care of it.
You can use your DM skills and strategies to get sales and customers to your web hosting business.
You can offer web hosting service for WordPress websites as this software powers more than 40% of the websites on the Internet and web hosting is where the website will be stored.
It is a low investment high returns business model.
For more information about this business model you can read the pros and cons of reseller hosting here.
13. Podcast.
A podcast is a recorded conversation between two people.
Unlike other content formats, podcasts are getting more popular these days.
The fact is that more than half of us consumers above the age of 12 listen to podcasts and 3 out of every 4 podcast listeners in the USA say they listen to podcasts to learn new things.
That is really COOL stats about podcasts.
As per these stats, you can just either record yourself teaching some educational stuff around a particular topic in a podcast and publish it on podcast hosting Platforms like podbean and Spotify.
Compared to blogging and YouTube, podcasts are relatively less competitive but highly demanded content formats for people because people can listen to podcasts just like
listening to music anywhere and anytime like while bathing and while running but do not do the same with reading blogs and watching videos on YouTube.
It is one of the fastest growing Trends and content formats in the digital marketing arena.
You can make money by sponsored posts and selling your own products and also recording ads in your podcasts when you have decent people following your podcast on the internet.
You can read a few guides,
Pros and cons of podcasts and blog Vs podcasts which is great and why.
14. Dropshipping.
Dropshipping is a business model where you create an online store and have a partnership with the retailer where you sell his products online and earn Commission in the sale whenever people purchase the product through your online store.
Just like affiliate marketing you don't have to deal with or handle the inventory or delivery of the product but you will have to take care of the customer service.
The reason why dropshipping is such an amazing business idea is because according to a report by techcrunch, COVID-19 pandemic accelerated the shift to e-commerce by 5 years.
More people are purchasing products online especially due to covid-19 because of lockdown and social distancing norms and
You can use your digital marketing skills like PPC and social media marketing to get sales to your E-Commerce business and make money.
This is one of the most highly competitive business ideas you can think of because you are going up against major eCommerce stores like Amazon and eBay,
it does not mean that you cannot succeed and become successful in dropshipping but you need to select the right products and the right audience with right DM strategies to succeed.
You can read my ultimate guide on how to start a dropshipping business.
15. A Digital PR agency.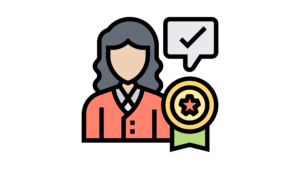 Last but not least you can also consider starting a digital PR agency.
Using your knowledge and skills in the digital marketing field, you can help a company or a small business increase its reputation and awareness on the internet.
A Company and its business online reputation is very important because the fact is that
81% of U.S. online consumers trust information and advice from blogs and 61% of U.S. online consumers have made a purchase based on recommendations from a blog.
A company's online reputation directly impacts the sales and revenue as per these stats so you can start offering digital PR agency services to companies so that
they can constantly have a good image and reputation with people online and continue to make money and sales.
There are lots of Amazing business ideas that you can start just by learning Digital Marketing concept for yourself and
if you want to learn how you can become a digital marketer using both free and paid options
you can read my ultimate guide on that here on ways to learn Digital marketing where I walk you through all the possible ways you can find to learn digital marketing but for now these are all the best Digital marketing business ideas you can consider.
With that said let's conclude the blog post.
Ending remarks;
There you go, these are all the best Digital marketing business ideas I have for you.
Share this blog post with your family and friends if you have found it helpful.
Sharing is caring.
Do comment down what you think about which Digital marketing idea you use.
I will catch you next time till then keep learning and keep growing.