Hi there, I am Praneeth.
In this blog, you will learn exactly 5 advantages and disadvantages of google search engine.
Without further ado, let's get started.
Here is a 30000-foot view of the blog.
Advantages and disadvantages of google search engine.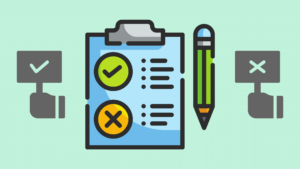 Here are 5 advantages and disadvantages of google as a search engine, first understand the advantages of google then come to the disadvantages.
3 Advantages of the google search engine:
Here are 3 advantages of google search engine.
Here is a quick overview of the advantages.
It is one of the largest companies in the world.
Google's entire focus is on users.
Safety and security of user data is 1 priority.
Let's learn them in detail.
It is one of the largest companies in the world.
Google is one of the largest companies and is constantly dominating the search engine market with over 90% of the total share.
Here are a few interesting facts about google.
As per Statista, google earned over 134 billion dollars through ad revenue.
Google receives over 63000 searches every second on any given day.
Google owns about 200 companies in total.
Google has 90% of the search engine market share value.
An average person searches 3-4 searches on Google every single day.
With these facts in place, it is no brainer that Google is one of the largest companies in the world and increasing its revenue and growth further and further,
Google currently ranks in the 29th position as per Wikipedia.
This is a result of the next advantages of google with people.
Google's entire focus is on users.
Google just hooked its audience with quality results and made people stick with the search engine like whenever someone gets a query in mind, they say "Just Google it".
Right from the start if you see,
Google's founder's larry page and Sergey brin came up with the idea of algorithms for its search engines which was really remarkable when its competition yahoo focused on other types of ranking methods.
The idea of using a computer algorithm back then was very new but it was revolutionary.
With Google, if something is constant then that is change.
Change in its algorithms and updates in its algorithms and constant strive for bringing in most relevant results to the users in the search results in its billions of webpages indexed in its database.
Google is always investing time and money in making its search results better by producing more advanced algorithms and constant updates in existing algorithms.
In fact, at one point in time google was found to be made over 500-600 updates a year in its algorithm which was over 2-3 updates a day.
This mentality of google which was always keeping users first was a big factor in terms of the success of Google.
You can see with every new update google is much closer to improving its search results to the best quality results on the internet.
Google is very serious in terms of which pages rank in results for what kind of keywords and intent behind it.
The whole purpose of all the updates in the past you see,
Whether they are,
Rank brain.
Panda.
Hummingbird.
Penguin.
Bert.
YMYL.
Pigeon.
The whole basic purpose of these popular updates was to filter search results of a low quality that focuses on tricking google into believing its high quality which they are not and ranking higher artificially for more organic traffic.
Mainly, Google's medic update which later passed to other niches than medical websites, the update was about the EAT of the website which can be boiled down to,
If you don't have an idea of what EAT means it is the expertise authoritativeness and trustworthiness of the website and author.
It is about the credibility of the website in general.
It is about,
What's the credibility of the information that is there on the website?
With these updates you know that users will get the information right from google because google gives extra focus on websites that rank on these topics mainly related to health and money.
Google is not just focusing on serving the best result but also on correct results and answer for its audience.
Another thing about Google is that it is trying to provide the answer to the questions of its users in the least effort and time, by answering the question in the search results itself.
It is called featured snippets.
It is about collecting the information from the website which is ranking in the top 10 of the results and showing it in the first place of results right upfront.
For example, search for the best keyword research tools keyword in google and you will get a box in the first place of search results in google called featured snippets.
Here is a screenshot.
This is just one example of Google trying to answer the query of users right on the search results without clicking to other articles.
With this, you can understand how good google is thinking of its users as their first priority.
This is just one example of google's many thousands of updates which are some small and some major.
Ultimately google puts over 200 different factors and tests the website before ranking the website in the search results,
The whole process of ranking with testing different and thousands of websites indexed n google database happens in just a matter of seconds and you as a user who has the most relevant and complete answer to the question.
If you are interested in learning the 200 different ranking factors of Google, click here.
Read the history of Google updates here.
Another great thing about Google is that it has built a great ecosystem of google products and services and hooked people to use its products,
Well, I am talking bout other google products such as,
Google photos.
Google drive.
Youtube.
Gmail.
Playstore.
Google Maps.
Chrome.
Andriod.
Click here for more information on Google products.
The great thing about these products is they are very simple to use.
These products of google have reached 1 billion people users mark which is really awesome and all the products are so easy to use and focused on users so well that it is impossible to live a life without using these products of google.
Google has created an excellent ecosystem for its users around these products and you can see how much google is in thinking and bettering user experience in its products.
Mainly you should talk about youtube which is the largest search engine of videos where it is larger than yahoo, ask, and bing combined together.
The most amazing fact about youtube is that over 300plus hours of videos are uploaded on youtube every second.
With that fact, you can understand how big is the youtube user base and the following.
Another reason why Google is the go-to solution for the users is it nailed local search results.
Using the algorithm of Google, search intent, users' search history, and users' location, Google produced highly relevant results attached with google maps which makes it easy to navigate to businesses in local search.
Google's local search [ Google my business ] along with google maps played an important role in the success of many local businesses and helped users vastly.
Google my business is a dedicated service for local businesses to be found by users in local areas, grow & promote their businesses through customer reviews and being found in google maps.
The best part of the whole thing is the results are highly relevant & easy to navigate.
Image search is another big thing about google and it made people search for things without typing anything ad know about the image information easily.
The safety and security of users' data are the number 1 priority.
Like any other company, Google has access to user data and information but google keeps the data of the users very safe and secure.
Other reputable companies like Facebook and TikTok have found to be revealing user data to other people such as advertisers and governments.
For more information about the Facebook, data leak click here.
For more information about TikTok, data leak click here.
Even Tiktok is banned in many countries including India for data security for leaking its data to Chinese governments.
It is not the case with google over data security of users.
Google has a world-class infrastructure with an excellent team of people who are always monitoring the datacenters of google where google stores users.
And constantly strives for new upgrades and installation and keep on bettering the equipment.
Google believes in transparency with the users so it keeps on revealing deals and information with users which is one of the main reasons why so many people trust google and use its products a lot.
Google has released its first transparency report in 2010.
For more information regarding the safety and security of user data with google click here and here.
With that said let's see the 2 disadvantages of google as a search engine.
2 Disadvantages of google search engine.
Here is an overview of 2 disadvantages of google as a search engine.
Penalizing sites badly
Always tracking users.
Let's learn them in detail.
You have understood how good google is regarding presenting the most relevant results to the users on the search results page.
Every new update of google's algorithms creates a lot of anxiety and nervousness to hundreds and thousands of bloggers and website owners who rely on Google for traffic and income.
Basically google's updates hurt a lot of bloggers and webmasters' livelihood because they all are dependent on Google for traffic.
The problem is, many people try to trick the algorithms of Google or manipulate google for higher rankings artificially by using bad SEO practices such as,
Creating spammy backlinks.
Creating low-quality content.
Keyword stuffing.
Deceptive redirects.
Not following the standards of Google.
Google penalizes badly these websites and if you don't know what a penalty is,
It is a manual action report by google which appears in your search console which is a punishment to your website from google.
A penalty from google leads to,
Lower rankings in google.
Lower traffic from google.
Lower visibility of the website on google.
With updates in the past like panda and penguin google has hit hundreds and thousands of webmasters and hit them badly for following bad SEO practices for ranking high on search engines.
Read all types of penalties and their fixes.
It is not that you as a website owner or a blogger, all can recover from the penalty but it takes time and affects your income and livelihood by these updates and penalties from Google.
Another disadvantage of google is that,
It is always tracking you.
Even without using GPS or google maps, google can still track your location and your private information through your website searches.
Google tracks users' information in various ways.
Here are ways google tracks users.
Through permissions in google services like google maps and google searches.
Through the searches you go on google and websites you click on search results.
Through other google products, you use google docs and sheets.
Through google-chrome permissions.
Through android software, you use it on your mobile phone.
Google uses this data to test its decisions, make better products like whats the user's interests in a specific country, what most people like and what they hate, and what people are searching for most, etc.
Google uses all this data for no negative and bad purpose but to grow the google company larger and bigger and serve more people on the planet.
This is also one of the reasons why Google and Facebook are one of the largest companies in terms of generating ad revenue.
Because these 2 companies have a lot of user data and having more user data you can attract more advertisers and show them the right ads and earn money.
This is one of the main reason why all the google product be it,
Gmail.
Youtube.
Google docs, sheets, slides.
They are all free to use because by keeping them for free to use, Google can get more people in and more data and information of users in.
These are the 5 advantages and disadvantages of the google search engine.
Ending remarks.
There you go, these are 5 advantages and disadvantages of the google search engine.
Share the blog with your family and friends and let them know why google is the best search engine on the internet.
Sharing is caring.
Comment down what are your views on google.
Read my other blogs,
I will catch you next time,
TIll then,
Keep learning and keep growing.
Hi, I am Praneeth Kumar [19 years aged guy] founder and owner of this blog, I am a blogger and an online entrepreneur by passion and a college student in the Arts Education branch, You can learn my story from a college student to a blogger on the about me page.