Hi there, it"s Praneeth here.
In this blog, you will learn 10 most important truths about starting a blog either before or while starting a blog in 2020
The truths you are going to learn are not just my assumptions or anything like that they are facts.
Without further ado.
Let's dive right in.
Here is a 30000-foot view of the blog
Here is a quick overview of truths you are going to learn:
Results in blogging will take time.
I think this is a well-known fact that blogging is not a one-night success idea.
The reason blogging takes at a time is because GOOGLE DO NOT TRUST YOU.
Even if you do the following things correctly.
Quality content.
Quality and quantity of Backlinks.
Site navigation.
Site loading speed.
User experience on-site.
Even if you do all these things correctly which are there in your control, you cannot expect to get position 1 or first-page ranking soon for your blog.
No that does not work that way.
First Google's algorithm fluctuate's new site's rankings here and there and because the website is new.
The algorithm tries to test the website by ranking it for different keywords used in the blog other than the main keyword.
If the users stay on your website or their dwell time is good on your website after clicking through in search engines, you most probably got a green light from Google.
As you continue publishing blogs targeting low competition long-tail keywords which you need to do for a couple of a bunch of blogs.
Google gives you a chance to rank in top pages of ranks and if the user experience and dwell time is good on your blog.
Bingo, you get the green light from Google.
This is the normal process of getting your blog from zero organic traffic to a good amount of organic traffic every month.
This usually takes near to a year to actually see some fruits of your work on your blog and content you published.
The Ctr of SERP results of Google is decreasing.
Let me explain.
Google has always been focusing on users.
Google is a user-centric company, it works and strives for the betterment of users.
In that case, to give fast results in less effort of users, Google released many new features.
Featured snippet.
People also ask.
QnA box in SERP.
Youtube videos.
Knowledge card.
Knowledge panel.
Image pack.
All these things especially featured snippets actually help the user get the answer quickly in the SERP's itself most of the time so that the user can skip clicking to the page to know the answer.
Ahrefs have done the study on featured snippets, the result was that,
Whichever blog, featured in snippets gets 8% of all clicks.
Here is the image of ahrefs study.
This means the first-page organic result which was supposed to get 31 percent of clicks from backlinko study, now gets only 26% which has not been featured in snippet gets fewer clicks.
Other than that, by the presence of other features on SERPs like People also ask and AdWords, youtube videos, you know what I am talking about.
These features make the organic results that rank on google push them down and make them less visible.
Less visibility often leads to fewer clicks and less traffic.
If you are happy that you have at least ranked in SERP then let me tell you something fishy.
There is a big difference in Ranking in SERPs and ranking in the top 3 in SERPs.
From the study of backlinko on CTR, he found that organic clicks for the first 3 results in google's SERP are almost equal to 75% of total clicks of the volume.
This means 75% of all clicks on SERPs go to the top 5 pages on SERPs in google.
Unlike the past where the clicks are not that hard to get in the past.
Here is a table of ctr to different positions in the SERPs of Google.
Table of Ctr for different positions in Google SERPs.
| | |
| --- | --- |
| Position Number of page's rank in Google. | Organic CTR to that page in that position. |
| ONE [1]. | 31.73% |
| TWO [2]. | 24.71% |
| THREE [3]. | 18.66% |
| FOUR [4]. | 13.60% |
| FIVE [5]. | 9.51% |
| SIX [6]. | 6.23% |
| SEVEN [7]. | 4.15% |
| EIGHT [8]. | 3.12% |
| NINE [9]. | 2.97% |
| TEN [10]. | 3.09% |
Source: Backlinko.
In the end, what I intended to say is that getting organic traffic is much more difficult and competitive now than ever before.
Mistakes that you mostly ignore in blogging are those which cost you a lot.
Did not get what I am talking about.
Let me explain
I am talking about Google penalties.
Panda, penguin, hummingbird, remember these.
For your kind information, Google frequently updates its algorithm for multiple reasons, which are.
To give a more enhanced user experience.
To serve users much better serving relevant results.
To punish people who try to trick Google for higher rankings.
To beat the hacking of its algorithm.
To give a fair chance for everyone who wants to grow an online audience on the internet.
In this process, if you in greed and being impatient mess up things here and there and do some mistakes on your website such as.
Building backlinks the wrong way or building irrelevant and excessive backlinks.
Using black hat SEO practices, like click baits.
Thin content.
Not updating content frequently.
Not establishing EAT.
Publishing low value and duplicate content-stealing from others.
Focusing on earning and placing ads excessively in a little piece of content.
The slow loading speed of the website.
Not mobile optimized and mobile-friendly.
All these things can lead to a penalty on your website.
What penalty you might be wondering?
The penalty can lead to the following circumstances.
Drop-in rankings.
Drop-in organic traffic from google.
Lower visibility of your website on google.
Your website is totally removed from the database of google if the offense if critical.
It is better to know early and not to repeat it and save your time and traffic from being penalized by Google and learn your lesson later.
You know prevention is always better than cure.
Blogging is not a text business anymore.
You know if you are alone blogger on your website.
Blogging is quite a hardworking job.
There are many things you need to do other than blogging to succeed in blogging in 2020.
You gotta create videos, you know video content actually drives 50x more traffic than traditional text-based content, adding the videos and visuals increase dwell time, and chances of links by 94%.
You gotta include podcasts in your blogs, include them on other networks like Spotify.
Podcasts are something, if people have given a choice of among blogs and vlogs, they would choose podcast.
Just like music,  you can listen to podcasts anywhere as they are flexible and super productive.
Podcasts are another exponentially growing sort of content consumption medium in the world along with videos.
At the end of the day, if you want to succeed in blogging and internet marketing in general, don't go only with the text-based approach.
Videos, graphics, podcasts must also be included in your to-do list.
People around you might not understand your work.
This is the case that happened to me.
When I started blogging in the month of May 2020.
I had an idea of what it was but as soon as I realized that I can do this thing.
I really used to spend a large amount t of time on blogging, reads blogs, watching videos of different bloggers, and listening to interviews and podcasts of these bloggers.
As I was spending more time on the internet doing these things and reducing my time with hanging out with friends and family, they started to question me as what I was doing.
When I tried to explain to them what I was doing, they barely understood me.
This cannot be a big problem for a few people but for most of people, the feeling of not being understood is terrific.
When you do not have support and people who don't understand your work like your parents and your friends, they might discourage you.
The chances of you quitting blogging increase because, in the initial year of a website, it obviously takes time to get that boost.
On top of that having these people who won't understand your work and discourage you by doubting your work all most probably leads to giving up in blogging for most of the people.
If you do not want to give up, you can stay connected with like-minded people in Facebook groups of bloggers and Whatsapp groups.
Blogging is actually very simple.
Yes.
You heard me right.
Forget all the things like backlinks and all other stuff like 200 ranking factors that Google uses to rank websites.
Just focus on the basics of blogging.
Here are the basics you need to keep in mind to succeed in blogging without many hurdles.
Blogging is about publishing content that solves a problem.
Blogging is about giving the relevant but most complete answer to the search query of people.
When you think blogging in this way, things get simpler.
All these backlinks, referring domains, age and other factors are just indicators of good trustable content are just a way to let google rank your website fast on google.
If you are not doing what you need to do which is solving his or her query in the most complete way with relevancy, nothing can stop you from failure.
If you keep in mind, blogging is all about solving problems of people by giving them the relevant and complete answer, even if you get few backlinks, you can rank in google.
Many people go the other way around, they tend to focus on google and give more time on creating backlinks and other stuff which is just a way to let google know about your website fast.
In the long term, The content which matches users' intent is going to win not the content with lots of links to it.
Google is getting smarter with every update, you see, some popular updates like.
These updates are actually on penalizing sites with spammy links in less or no quality content.
Another reason why you just need to focus on the basics of blogging is because,
If you go the other way around you are going to waste a lot of your time, of course, you might get a few traffic and links here and there.
But if you spend the time blogging and creating content.
Google will itself organically recognize you, test your website, and start ranking your website rather than penalizing your website.
Here is proof that if your content is really solving users queries at its heart giving them a complete answer to the query, you can outrank all.
I don't want to speak things in the air.
Here is proof of a few blogs that just published Quality and problem-solving content in the most complete way for users, even with fewer backlinks they ranked on Google.
Proof:
Here is a keyword Blogging mistakes and its difficulty in Ahrefs is.
Let's look at the SERP results of the keyword.
This blog is ranking in 3rd place for the keyword in SERPs.
Let's explore the site in the Moz keyword tool.
Take a look at linking domains, it means the number of unique domains linking to this website.
This page has only 6 websites linking to it.
You have seen in Ahrefs, it is suggesting that you should have at least 32 backlinks to rank in the top 10 on google.
This page has only 6 RD's yet ranking in Google.
Very few times, Ahrefs get things right in terms of keyword difficulty metrics.
I am not saying, backlinks are not important.
Backlinks are the third most important rankings factor.
But.
Backlinks for weak content is not going to work anymore.
If your content is weak not solving on queries of people in a relevant and complete way, you are not going to do well no matter what.
To Google, backlinks are like Votes to content, the higher the backlinks are the higher the trust gets but if the users are not happy with that content, Google will rank it down.
I have written a detailed blog on why blogs are important for SEO where I discussed how you can rank in google even with few backlinks and a google update.
Do check that out click here.
Most of the keyword tools are misleading.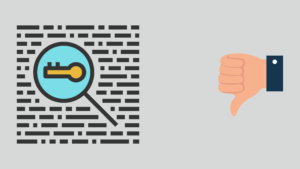 I am not saying, keyword tools are bad.
No, they are not.
Keyword tools like Ahrefs, Semrush, Moz are incredible.
They help you figure out things wrong on your website.
They help you do competition analysis, they help you figure out some important things of your website.
But.
In some aspects, relying on keyword tools is a bad idea.
Keyword tools like Ahrefs, Semrush, and Moz are not at all accurate in terms of some important metrics like Keyword search volume and difficulty.
They either underestimate things or overestimate things but they usually do not give you an answer you can blindly rely on.
The only place you can find important details of keywords is Google.
Google does not disclose that data to all.
Hence, mainly in keywords search volume, these keyword research tools are nowhere accurate, they just draw things from other sources that are not reliable and trustworthy.
This thing is very important for bloggers to know if you are using keyword research tools like Ahrefs and Semrush and if you are filtering keywords based on their search volume, thinking they have less search volume.
You never know, keywords in these tools which show no search volume might actually have thousands of search volume which you are missing out.
You should also know the fact that maybe that particular keyword has low search volume but when you target that keyword and rank on Google, you will rank on multiple other terms & queries other than keyword.
Here is an example of what I mean.
Here is a keyword Blogging mistakes.
This keyword according to MOZ search volume between 11-50.
But what's interesting is.
Here is a blog of HubSpot that is ranking on google in 1st place for this keyword.
If you look at the overview of the page, this same blog is ranking for over 900 different keywords other than its targeted keyword or query Blogging mistakes.
The best way to find if the keyword has a good amount of search volume if the keyword tools are showing no search volume is to find if it appears in google autosuggest.
The other thing is a competition of keywords,
Let's look at the keyword tools like Ahrefs.
This keyword tool totally determines the difficulty of keywords based on backlinks.
But if you target keywords, let's say based on keyword difficulty scores ignoring the authority of your website, you would hardly outrank sites that are already ranking in google if they have high authority than yours.
Here is the deal,
Suppose there is a keyword called x and its keyword difficulty in Ahrefs is 5 which means if you get at least 6 backlinks to your website you can outrank sites in SERPs.
But if you write the same content that is already present in the SERPs and the ranking websites are super authoritative like
Forbes.
Entrepreneur.
Fortune.
Edu sites.
Wikipedia.
All those authority websites in that niche.
If these kinds of sites are ranking in SERPs, even if you acquire more than enough backlinks for that blog, you have almost no chance to outrank these giant websites.
Because they have more authority and more trust from google than on yours.
What I intended to say is that you should not blindly follow keyword research tools while researching for keyword ideas and competition of keywords.
Use your brain and do your search analysis of the SERPs before targeting keywords in your blogs.
What to consider in SERP analysis?
Here are 9 things you need to consider in search analysis of keywords to determine the difficulty of keyword you can rank for.
The results that show up in search results are not on point to what you have searched.
There are forum results ranking like Quora and Reddit.
Are there Youtube & Pinterest also ranking in SERPs
When are the blogs published, the age of the blog in SERPs?
Domain and page authority of pages ranking for that keyword.
Length and depth of articles ranking in Google. for that query
Search intent of the keyword.
Obviously backlinks and referring domains to the blogs that are ranking.
Fewer SERP features to increase CTR for your blog.
If you get quora and Reddit ranking you know it is a great sign that you can outrank it because forums are the least form of content, I mean you can easily outrank them.
Another one is the blog's age, if the blog is old for a couple of years, you have an advantage of creating a much better and fresh blog, Google loves fresh content.
You know these are things you need to do before blindly following keyword research tools for keyword difficulty metrics.
This thing is a very important truth about blogging in 2020 that most people do not understand.
This is also one of the most common blogging mistakes people do, you should know the truth about blogging and keyword research.
The intention is that you should stop blindly following keyword research tools for generating keyword ideas and keyword metrics, do your own SERP analysis as well.
Learn more about how to find keyword difficulty.
You need to establish EAT before blogging today.
Don't go and blindly write blogs on your niche without following these things.
EAT is a very important aspect for bloggers now, it was introduced in the medic update in 2018.
It is the most crucial aspect to get that credibility from google to let it rank you.
EAT stands for Expertise, Authoritativeness, and Trustworthiness.
Why EAT is very important and why you need to establish it?
You know if you are in a niche that is related to the following categories most importantly.
Health.
Fitness.
Personal finance.
Medical advises.
The sites that come under Your money your life which means topics that cover things related to money and life.
When you write blogs on these topics, it becomes super important to have to EAT of yourself.
Google does not want its users to get information from any person who has zero expertise on the topic which are involved with money, health, and life.
Google goes one step ahead and analyzes what's the credibility of the website ranking for that term, is that trustable?
If the author has no expertise on the topic, it becomes quite hard for google to trust your website.
If Google does not trust your website, it will most probably not rank you.
Here is the deal,
A blog on how to cure diabetes published by an expert doctor on a reputable site is more credible than the same blog published by a freelance writer who has no knowledge of the topic.
How to establish EAT then?
Here are ways you can build EAT for your website.
Some other important things you can do to improve your EAT IS:
Create a youtube channel, upload videos, and show your presence on other platforms to give google a hint that you are present on the other platforms as well.
Go for a podcast and do yourself some personal branding.
Publish long, highly researched, in-depth articles.
Learn more about how to establish EAT for your website.
Social media cannot help you with traffic anymore.
You might think that you will start a blog and start earning money within a couple of months.
A couple of months through organic traffic is not the option.
You might say traffic through social media is my choice.
Hold on, it is not that easy and it is not the case anymore.
Social media platforms like,
Facebook.
Instagram.
Pinterest.
Linkedin.
Twitter.
Majorly facebook in its recent algorithm changes are quite disappointing to people like bloggers.
In the recent updates on Facebook, it has decreased the reach of the Facebook posts which are basically free advertisements of their blog or their business.
But why?
2 reasons but let me explain.
Facebook has been a big place for free advertising and traffic source for many bloggers.
Facebook is now decreasing the reach of the posts which are more of advertisements of businesses to reduce the spammy and nonengaging content on its platform and deliver more user-friendly content.
Another reason would be,
These social media giants earn money through ADS.
If people on these platforms move to other platforms like from Facebook to your website, the earnings of these platforms will decrease.
If people are not staying on the platform they are not going to see ads that marketers bid on Facebook and Facebook will not earn money.
Hence, Facebook has in its recent algorithm made these big changes.
The same goes for other social media platforms like Instagram and LinkedIn.
These social media giants do not want their users to move to other websites while using it, because if the traffic moves to other places, it is going to hurt the income of these platforms.
Hence, Facebook, Instagram, and Linkedin platforms which used to drive a large portion of traffic to the majority of bloggers to their website have decreased in recent times and it will stay the same or get worse.
There is some ray of hope for social traffic on sites like.
Pinterest.
Online forums like Quora and Reddit.
Youtube, etc.
Nonetheless, there are fewer chances of driving traffic from these platforms to your website even if you create a group of hundreds of people on these platforms, the percentage will be negligible.
Aim to convert traffic into subscribers.
One of the most important truths of starting a blog in 2020 is not aiming for more organic traffic by publishing more blogs on Google.
If you look at it that way, it is going to get difficult for you and you cannot monetize the blog with the traffic you get pretty well.
More content, more blogs, and more traffic is not the right option in 2020 anymore.
But if you convert whatever traffic you get on your website as subscribers for your blog using lead magnets like free ebooks and courses, collecting their email addresses through push notifications.
You will get a higher chance of getting success in low traffic.
You can take advantage of email marketing which is the best form of digital marketing.
Here are some quick benefits of email marketing.
The return to investment in email marketing is huge, for every dollar you spend on this, you can expect a return of 42 dollars.
9 out of 10 marketers use email marketing to distribute their content organically and get more visitors.
Emails are more personalized and targeted that increases the chances of sales of the website.
Click here to learn more about the facts.
As a result, your dependence on Google for traffic and leads and sales will decrease and you will not be in a panic if you get a drop in rankings in google's updates.
Even in less traffic on your website, you can get good returns from your blog.
Here are some other truths about starting a blog.
5 other obvious truths about starting a blog:
These are obvious things but these should be there in your mind while starting a blog in 2020.
1. You got to invest your money to expect returns in cases like obviously in keyword tools, in hiring writers, in web designing, in the graphic design of your multimedia, in other essential services.
2. You got to kick your ass off in the initial days of blogging, it is going to be very difficult to do work in absence of results, mainly if you are an alone guy.
3. The growth of the blog is neither linear nor exponential, the graph will be like ups and downs in your google analytics, the landscape is always changing due to regular updates from google and competition is huge as well.
4. Earning money through blogging is not going to be fast but definitely one of the best ways for generating passive income streams online, it takes time but it is worth it.
5. Blogging in beginning can lead to many other problems.
Eye problems due to being on a computer screen for a long time.
Weight gain and obesity.
Addictions to coffee & late night sleeping.
Less active in social life and with friends.
Being felt like nobody is visiting my website, nobody cares about my work, I suck, kind of negative feelings.
The journey in the initial months of blogging is going to be tough.
These are some obvious truths you should be knowing if you want to start a blog in 2020.
Ending remarks:
There you go, I have answered the top truths about starting a blog.
These truths are not obvious but very important for newbies to know as they are starting a blog in 2020.
Do let me know which truth you found interesting in the blog in the comments section below.
Do check out other similar blogs:
Please consider sharing the blog with your family and friends if they are thinking of starting a blog.
Sharing is caring.
I will catch you in the next blog, till then,
Keep learning and keep growing.