Hi, I am Praneeth,
In this blog, you will learn 7 reasons why blogging platform is superior.
Without further ado, let's get started.
Here is a 30000-foot view of the blog.
Why wordpress is superior than other cms.
Here are 7 reasons overview.
Ownership.
SEO.
Design.
Monetization.
Flexibility & scalability.
Support.
Security.
Let's learn each reason in detail,
1. Ownership.
Look,
If you don't own the blog or the website you work for months and potentially years to come.
It is waste of time and effort.
A blogging platform is very important for creating a perfect blog for your online business and the internet.
If you don't own the blog you have it is crazy.
That is the reason for not to create a blog on free blogging platforms like,
You should not create a blog on these free blogging platforms because you simply don't own the blog you work on.
You are running at the mercy of these big blog platforms.
Creating a blog on a free blogging platform means the blogging platform can delete your blog at any time without giving you notice.
There have been many cases like this,
Such as,
These are just a few cases with free blogging platforms.
You are just putting your work at stake if you are working on the blogging platform and building a blog that you cannot own and control.
If you are using,
Wix.
Weebly.
WordPress.com.
These companies won't delete your blog unless if you are violating their main terms and conditions and policies and.
The reason these companies won't delete your blog is that these companies place ads on your blogs and do their branding for free.
Which is why,
You should not choose free blogging platforms and invest in a blogging platform for your blog and website.
2. SEO.
The major source of traffic for most blogs is Search engines.
If SEO is done right, you can drive thousands of visitors to your blog without any cost passively.
You need to understand something very important here,
Google or any search engine in general does not favor your website or any website in general and gives higher rankings based on their blogging platform.
No,
If you have your blog hosted on Wix or Squarespace and you are expecting to get higher rankings just because you have it on Squarespace or Wix, It does not work that way.
Google doesn't care if your blog is hosted on WordPress or Wix or Squarespace.
But,
What you should care about is how optimized your blogging platform is to search engines.
Ultimately you need to drive traffic through search engines.
So, you want all your things starting from you,
Content.
Blogs.
Blogging platforms.
To be optimized for SEO.
In that case, WordPress outranks above all.
WordPress is the best blogging platform in terms of being optimized for SEO.
It is for a reason,
You have,
Proper HTML markups which are easily understandable for search engines.
Pretty looking short permalinks.
Title tags and headings well optimized.
Lots of themes that are both mobile-friendly, updated and SEO optimized.
Lots of free plugins to make your SEO a lot easier and better User experience like Rank math, smush, and table of contents.
You have a lot of advantages with WordPress you cannot think of,
Like it is overwhelming,
The reason being is WordPress is an open platform.
That is the reason a lot of people helped the platform and people by designing plugins and themes for free to use.
You won't find the same advantage with other blogging platforms,
Take,
Blogger.
Tumblr.
Wix.
Weebly.
Strikingly.
Joomla.
Contentful.
You just name them,
These platforms lack something very important,
That is they are not that good optimized for SEO.
They don't offer,
Free plugins.
Customization of themes.
Control of the website.
That is why WordPress is by far the best CMS and because of that over 35% of all websites on the internet are managed on WordPress.
Click here for more information on why WordPress is the best cms for SEO.
3. Design.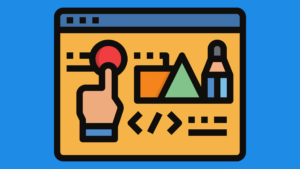 Everybody loves websites that look professional.
Website design plays a major role in the credibility of the website online.
It creates the first impression to the users on the internet.
As a matter of fact, users first look at the design of the website then read the content like they do judge the book by its covers.
In that case, you don't want to show ads of your free blog platforms display on the blog like this website is made on … sort of things like branding.
Sadly, Many free blogging platforms like,
Wix.
Weebly.
WordPress.com.
Strikingly.
Site123.
All these free blogging platforms show their company ads on your website that really look bad and it creates a bad impression for users about the company's reputation.
While talking about design, no doubt,
Wix.
Weebly.
Constant contact.
Are very user-friendly and offer drag and drop options to design your websites.
But the amount of customization, control you have is very limited as compared to what you can do on WordPress.
WordPress [.org] is an open-source content management system where there are 55000 plus plugins you can use.
There are many plugins that can help you create a good design for your website like,
Elementor.
Social share plugins,
Author box plugins.
All these plugins help you create a stunning looking website along with thousands of free themes that are both highly awesome and fast.
Whereas, Wix and Weebly are not open-sourced so you are limited to a set of features, apps, and widgets you can use from Wix and Weebly software developed by themselves that are not that great.
As a matter of fact, on Wix websites which is one of the best drag and drop website builders, you cannot change the theme and templates of the website once it goes live and published.
Overall, Designing of a blog or website is totally dependent on the blogging platform you choose,
So you must be very careful in the selection of your blogging platform as the design of your website can either build or break your reputation online.
By the way, WordPress.org is opensource cms and wordpress.com is a free blogging platform just like blogger.
4. Monetization.
This one is the most important for your website.
You need to monetize your blog or website.
Of course, everyone wants to earn money through their blog if they have one.
But, how do you monetize your blog,
Here are 5 ways you can do,
Showing ads on your blog.
Doing affiliate marketing.
Selling online ebooks and digital products.
Selling your merchandise.
Selling your online courses and consultations.
Not all blogging platforms help you achieve your goals in a monetization strategy.
Mostly in free blogging platforms where you are not investing a penny in the blogging platform, you should not expect much in return as service,
Like,
Blogger.
Tumblr.
Wix.
Weebly.
Strikingly.
The last 3 platforms come with default ads inserted on the blog theme which means you cannot run ads on your blog.
It is quite difficult to do affiliate marketing and an online store on these free blogging platforms.
Of course, there are paid plans in blogging platforms like,
But the level of customization and design is not good for what you expect.
The best blogging platform to earn money through your blog is WordPress.org.
The reason being is,
It is an open-source platform which means you can edit the codes of themes and WordPress and customize the website the way you want.
There are thousands of themes that are free, optimized for SEO.
There are thousands of plugins to help you create the website you want.
It is just awesome in terms of what you can do in wordpress.org as compared to Wix or Weebly.
If you are not on WordPress you are missing a lot of features.
5. Flexibility & Scalability.
This one is about how flexible your blog is to be able to get integrated with other tools and software and grow your blog from just a blog to more of a brand.
You will be using some tools like,
Enter and exit popups like convertkit for managing email campaigns.
Security software.
Woo-commerce.
You know your blogging platform must be flexible to be able to let you use this external software to grow your blog.
Another thing is,
Scalability.
How scalable your blogging platform is,
You will eventually hire people to write for your blog so does your blogging platform allow multiple users to login.
Can you design your website and change the code of your website the way you want it to be.
Is your website structure and navigation is easy.
Does your blogging platform fitting with external software and tools to grow your business?
Can your blogging platform allow you to access your FTP?
WordPress does all these things,
With the right resources in hand, you can scale your website the way you want it to without any compromises meanwhile.
Of course, there are many other blogging platforms which can help you scale your blog quite well like,
Wix.
Weebly.
Drupal.
Ghost.
Joomla.
But what's a problem with them is that either most of them are,
Too advance like typically not for those who just want to have a blog, or they are not user-friendly, they need a lot of technical knowledge, not highly customizable or they are not highly popular, you might have to invest money.
You get my point.
WordPress on the other hand is not the only open-source platform on the internet.
There are a bunch of others as well, mainly Joomla & Drupal, etc.
But they struggle with problems such as,
Not easy to use as WordPress.
They are mostly focused on developers and super techy guys than just website owners and bloggers.
Less popular and not that good at plugins and themes that WordPress offers like outdated and less effective.
You got it.
6. Support.
You know support is another big thing in the blogging platform you choose.
Most of the people who start blogging are not that techy guys.
So, you know you need a lot of support and knowledge while creating a website online.
Of course, there are drag and drop website builders like,
Wix.
Weebly.
Constant contact.
They do come with good support only at a paid plan which is really costly as compared to the plan you would get on WordPress.
We will talk about pricing later.
But you need security and support for your online project and in these cases, these websites are good.
Whereas, WordPress, man.
It is incredible because the WordPress community, the forum is very large.
Over 35% of the websites on the internet are managed on WordPress you know that's a big number.
The WordPress community is big and solves all the issues with WordPress instantly,
If not, you can find problems with your website on social media.
Even though your problem is not solved you can get it to solve through your website host.
At last, it is easy to get a freelancer about WordPress to make the settings for your website online at less cost.
Ultimately, you know the support you have is awesome.
7. Security.
Website security has both you and your blogging platform responsibility.
Here,
These platforms are good at the security of the website because they are closed source blogging platforms, less popular so your website is hard to be hacked or even if in that case, with the security you have you can easily get things done.
But on WordPress.
You have to deal with the security of the website because of its popularity and open source.
You need to have strong passwords.
Using SSL on your website.
You need to enable 2 step authentication.
You need to have all your plugins and themes up to date.
You need to have your WordPress on the latest PHP version.
You need to take backups of your website.
You need to be careful with who logins to your website.
Also, there is a strong WordPress team looking at and solving bugs 24/7 to its core WordPress software.
It is a world-class security team and they are doing the work pretty well as they know how important it is to keep their core WordPress software healthy as it can affect all websites managed on WordPress if not.
Now that you know what are the reasons blogging platform is superior and why you must invest in a good blogging platform,
Let's get it to the last and most convincing reason why you should go for WordPress instead of Wix, Weebly, and Squarespace in 2020 and beyond.
Why WordPress is best overall
Above all, why should you choose wordpress.org for your website overall among dozens of other blogging platforms both open and closed source?
Well, the most important reason is the Price and the features it offers.
You know WordPress is a free open source CMS, but you need to have hosting and domain name to be able to use WordPress.
The same goes for other open-source software such as Joomla and drupal.
You can get a domain name for about, 15 dollars a year on Godaddy.
You can get hosting for your website for around 70 dollars on Bluehost.
That's all there to it.
If you get your shared hosting on Bluehost, you can get a free domain for a year which means you just need not more than 70 dollars a year to get started with your blog on wordpress.org.
Here is the pricing plan for Bluehost.
In just 60 dollars a year you get WordPress and a domain name with 50 GB storage free for a year, that's wonderful, isn't it.
You have,
Thousands of plugins free.
Hundreds of themes optimized for speed, mobile, and user experience.
Lots of settings and complete customization and control of your website.
Is waiting for you which is easy to use for beginners and great for SEO.
If you compare the same plans on
Wix.
Squarespace.
Weebly.
Constant contact.
Here are screenshots of the pricing plans of these blogging platforms.
See Wix plan,
See Weebly plan,
See constant contact plan,
The most common factor among all these is the prices for the smallest plans are extremely high though they are not offering the level of features you would deserve with the pricing.
It is terrible for beginners to switch to the paid plans of these blogging platforms,
You can get WordPress and 50 GB storage and free SSL with good hosting for just 60 dollars which is half the price which these other blogging platforms I mentioned earlier are offering.
If you think, Bluehost hosting speed is bad,
Here is my website loading speed in page speed insights and Gtmetrix.
By the way, my website is hosted on Bluehost.
Another reason is it is quite difficult to migrate your website from these platforms to WordPress.
So it is better to start a website on WordPress right from the start rather than struggling in the middle.
Now that you know, let's end the discussion.
Ending remarks.
There you go, I have answered all the reasons why the blogging platform is superior and why you must invest in a good blogging platform is importantly WordPress.
Do let me know in the comments section if you are starting your blog on WordPress or not I am curious to know.
Please share the blog with your family and friends if you found the blog to be helpful.
Sharing is caring.
Read my other blogs,
I will catch you next time till then,
Keep reading and keep growing.